I think every client who comes to me wants a stronger core, and this is where we start. It really is a simple step. Or at least it sounds simple. In reality, it can be pretty hard to master, at least when you've just grown a baby!
I'm talking about breathing correctly.
Correct breathing technique is one of the tips in my guide to kick-starting your postnatal fitness, and it's one of the first things I look at with postnatal clients, before starting any exercises even.
It might seem silly, and you're thinking "but I feel so weak- I need to get working, feel my muscles again!"
And I get that. But if you don't get the breath right, you won't be getting the most out of your exercises.
Let's start with the core itself.
I've explained it in this video, and if you look at the image below, you can see how the muscles of the abdominal wall and the back form a cylinder, with the diaphragm (that's the main muscle used for breathing) at the top, and the pelvic floor at the bottom.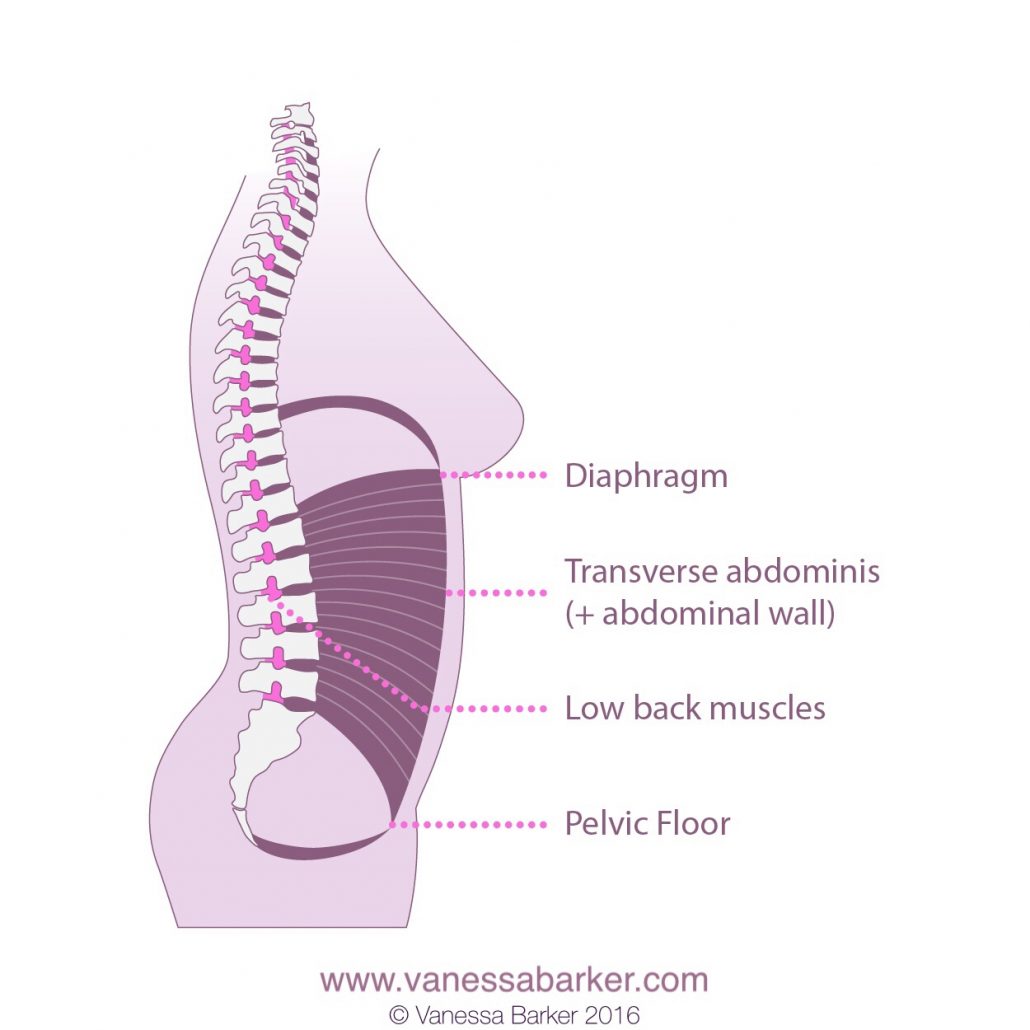 These four elements work together, and when one isn't functioning properly, it affects the rest of the team.
Before you read any further, try something for me: place one hand on your ribs, thumb to the back and fingers to the front, and the other hand on your tummy. Take a few breaths- what can you feel moving, what's happening?
Here's how they should be working together.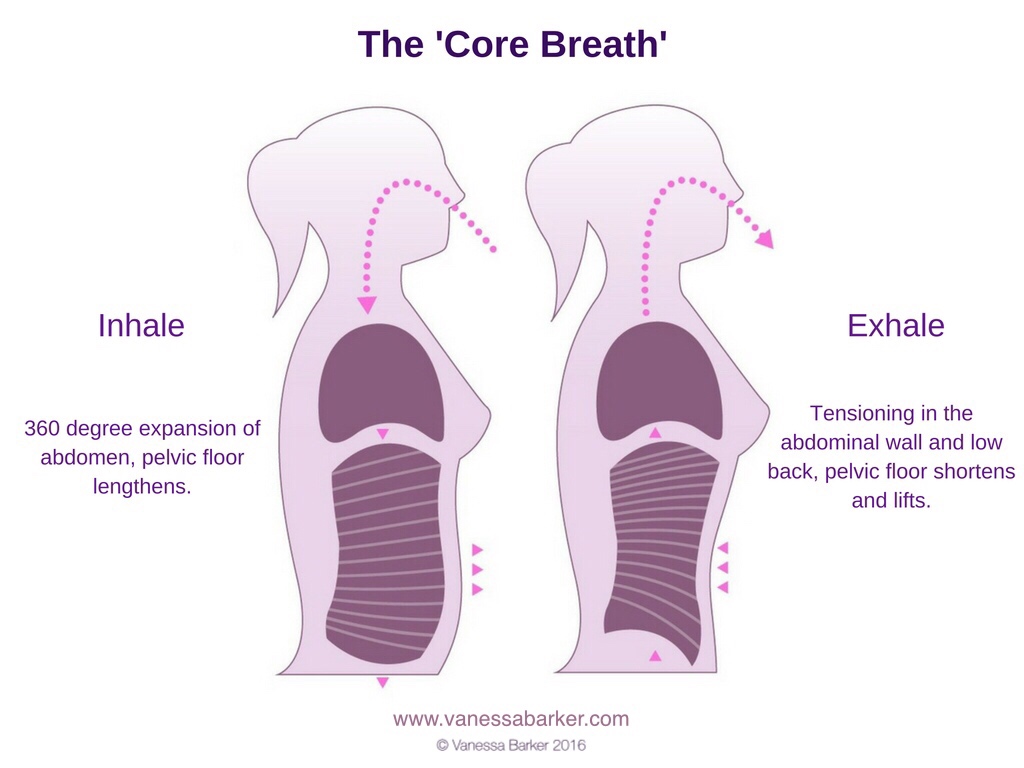 As you inhale, the diaphragm moves down, the pelvic floor lengthens, and the abdominal wall (and trunk in general, the low back opens up as well, which isn't shown here) expands. The rib cage opens up in a 360 degree action too.
Here are the ribs in action:
You should hopefully feel a softening of the tummy and pelvic floor as this happens.
As you exhale the diaphragm rises, and the pelvic floor and abdominal wall naturally tension. You may even feel your low back joining in on a more forceful long exhalation.
How is this relevant to getting a flatter/ stronger tummy?
Because so many people have poor breathing technique. Especially new mums. Having your tummy muscles stretched and a baby's butt pushing into your diaphragm for months will do that. Here are a few of the problems that I come across.
Mistake Number 1- Belly Breathing and Diastasis.
Diastasis Recti is when your abdominal muscles stretch apart during pregnancy. Once the baby is gone and the pressure stretching them removed, they should move back together again over the next few months.
But sometimes the pressure isn't removed. If you're a belly breather (think BIG expansion of your tummy every time you inhale) then that's pushing on your diastasis every time you take a breath. Which is about 20,000 times a day. Not good.
Mistake Number 2- Sucking It In.
Holding in the abs. How many of us are guilty of that? In a world where we're continually informed that a flat tummy and six pack= sexy, it's tempting to do!
But if your tummy's sucked in, where's that pressure going? Down on your pelvic floor, or up on your diaphragm. The whole mechanics of your core is altered.
Strong abs do NOT = functional. You need them to be able to move with the breath. Permanent tension is not practical, and can result in back ache as your low back muscles over work too.
So let it go!
Mistake Number 3- Shallow Or Chest Breathing.
Booby breaths as I like to call them. Think heaving bosoms in corsets. This often goes hand in hand with the sucking in, but many take heavy chest breaths, where the ribs go up as you breath, rather than out. It's usually a tense and shallow breath, which means the core will not be effectively loading and unloading, so not making the most of your exercises. And think how relaxing a good deep breath is- you're not getting that release if you're stuck shallow breathing! If you're shoulders rise when you breathe in- you're doing it wrong! Remember- 360 expansion.
Now let's try connecting to your deep core as you breathe.
With one hand on your tummy, one on your ribs, inhale, and try and feel a 360 degree softening in your belly and your ribs open up to the sides. Feel your pelvic floor soften and lengthen.
Now exhale for an 8 count, like blowing bubbles (I get the Restore My Core mums to actually do this!)- can you feel a tensioning in your tummy and hopefully pelvic floor?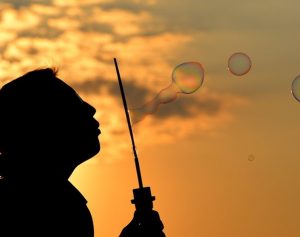 You might only feel your chest at first. After giving birth, regardless of the type of delivery, nerves can be affected, so this, plus the load carrying a baby placed on you, means this connection to the breath can be lost.
Bring your attention to your tummy and pelvic floor, and take your time.
Here's a live facebook video I did on this, exaplining how you can practise correct breathing technique (it's live so forgve me for forgetting to mention- as you inhale try to feel your pelvic floor lengthen, and rise as you exhale):
It takes practise, and there are also certain releases (such as massage, or some self applied techniques that I teach on Restore My Core) that I find very effective in helping to release and open up the rib cage and low back.
Hopefully you can see that even if you do the best exercises in the world to heal a diastasis, if your breath is putting pressure on your abdominal wall all day long, they won't be effective.
To get a strong core you HAVE to start with the deep muscles. Once they are well co-ordinated, THEN you can start working on your abs.
But only when the inner unit is stabilised! Which means the diaphragm, pelvic floor and deep core working together on every breath.
Once you've got the hang of this head to this blog for some postnatal core exercises to get started on, and you can also download my 10 Tips for getting back in shape after having a baby.
https://vanessabarker.com/wp-content/uploads/2016/09/IMG_1534.jpg
1250
1250
Vanessa
https://vanessabarker.com/wp-content/uploads/2015/11/logo.00.jpg
Vanessa
2016-09-10 23:02:04
2018-04-24 16:18:13
Learn This Simple Step to a Stronger Core