Maybe my first question should be have you heard of it? Because unfortunately many mums haven't. But you know that poochy tummy some women are left with after having a baby? This can be the cause.
And those who have heard of diastasis tend to focus on closing the gap thinking then all will be well, but there's a bit more to it than that, so read on to learn more…
What is Diastasis Rectus Abdominis?
The six-pack muscle (rectus abdominis) runs from your breast bone to your pubic bone and is joined together with a strong fibrous sheath called the linea alba.  In some pregnancies, the linea alba becomes a little darker in colour and is visible on your stomach. This is called linea negra which simply means "dark line".
You may have heard people talk about your abdominal muscles "splitting".  Your muscles don't "split" because they're already in a separated state and held together by the linea alba.  A split muscle is like a torn muscle, so if you've ever torn your hamstring, for example, you'll know what this pain is like!  What happens to the abdominal muscles during pregnancy is completely painless, you aren't aware of it, and I like to refer to it simply as abdominal "separation".
The rectus abdominis stretches vertically (up and down your stomach) to accommodate your growing baby, and when it can't stretch any further up and down it starts to separate horizontally (from left to right).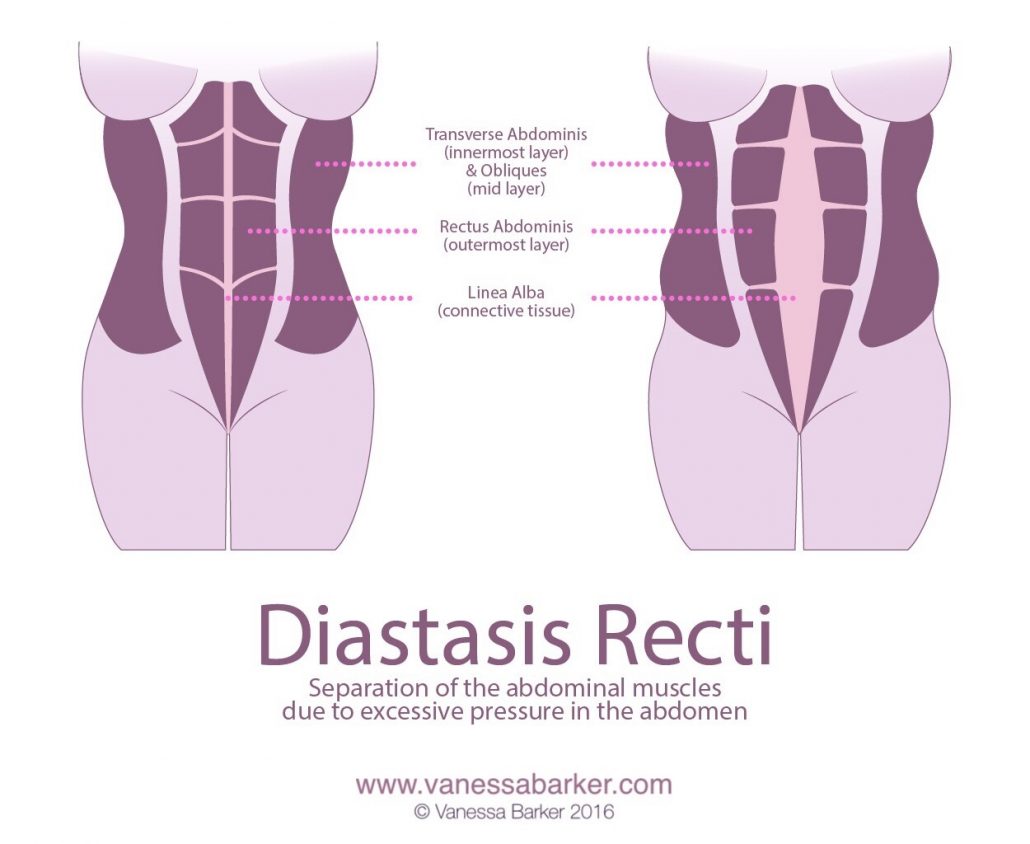 I guess it's a little bit like the linea alba is heavy duty cling film stretching apart. And when you're growing a baby in there, it will stretch apart! When this happens, it's called Diastasis Rectus Abdominis. It's not clear how many women get this in pregnancy, as there isn't a huge amount of reseach to go on. The latest research suggests that 100% of women develop it, but as Physical Therapist Julie Wiebe explains here, there are flaws in this study. Another one found that 66% of women had diastasis in the third trimester, and 53% continued to have it immedietely postpartum (read more here).
It should heal on its own by 8 weeks post partum, (Coldron et al 2008) but if it doesn't don't worry, this is far from uncommon! It just means you need to work out why it isn't healing, and do a few restorative exercises to help.
If you don't and your DRA remains, your body will be forced to rely on other muscles to stabilize the pelvis, which can lead to:
– Back pain
– Pelvic pain
– Incontinence
– A tummy pooch that never goes away
It's not just about closing the gap
In fact you can have a diastasis and still be functional. I have about a finger's gap there still! You also need to consider the tension of the midline: there is a big difference between having a firm and functional gap, and a gap that is soft with lots of give.
You need to consider WHY the gap is there. Yes, you grew a baby (again well done for that! I never fail to be amazed by how awesome it is that we can do that!)
But it should heal in the first few months after giving birth. If it doesn't, this is down to too much pressure in the abdomen which then pushes out on your tummy or down on your pelvic floor. This happens when your core isn't functioning as it should, so it isn't managing to control the pressure.
What to avoid
Any exercise that puts repeated forward pressure on your abdomen could very well be making your diastasis worse.
This means avoiding many common exercises such as crunches, sit-ups, and conventional planks. I discuss this in more detail in this blog.
Diastasis can also be worsened by poor posture and an imbalance in the muscles of the core.
So what do you need to do?
It's about connecting with your core to recruit the right muscles, and this starts with how you breath. Which sounds too simple but it's SOOO important, and where I start with all my clients. You can read more about this here.
And you can't look at your core in isolation. Your alignment, nutrition and stress all affect your diastasis recti. And you have to do the exercises RIGHT (we look at all of this in my Restore My Core programme).
It sounds odd, but one of the hardest things for me is getting clients to back off: the exercises are subtle, and no way as hard as what you are probably used to doing. I struggled to get my head round it. I spent years working in gyms taking abs classes and pushing through that burn. But contracting the deep transversus abdominis muscle is subtle, and until you have connected and it is happening naturally you risk just engaging the abs and obliques and having them take over. Then they pull on the midline and stop your diastasis from healing. This blog has some diastasis safe exercises to get you started.
To learn how to test for diastasis recti sign up to my free Restore My Core mini course.
https://vanessabarker.com/wp-content/uploads/2015/10/IMG_1624-2.jpg
1024
1250
Vanessa
https://vanessabarker.com/wp-content/uploads/2015/11/logo.00.jpg
Vanessa
2015-10-24 14:44:10
2019-06-18 13:51:08
Do You Have Diastasis Recti?