We all know we should make fitness and healthy eating a priority, but in real life preparing nutritious meals that children will actually eat, and finding time for exercise, is easier said than done!
Balancing everything is not easy, so to help you get more active as a family this summer, I've compiled my top 10 ways to exercise with your kids.
There are many activities you can choose from, so you can try them and find what that your family might want to continue doing.
Depending on the ages of your children you might be more restricted as to what activities you can do, however most of the ones we have selected and be enjoyed by most ages.
This is a simple and effective way to spend time together as a family and is very easy to complete! You don't have to be very coordinated or require any special equipment. The reason I have suggested 'post meal' walk is this is great time to walk off your meal and reenergise yourself. It's a great way to connect as a family and feel more refreshed.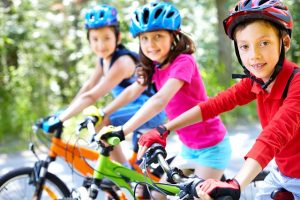 This can be enjoyed by all ages. It doesn't have to be a 10-mile ride anywhere extravagant; a simple ride around your neighbourhood would be ideal. A great way to increase your fitness and tone up your legs too!
This might seem a little odd however it is a great way to get fit and have some fun at the same time. I would suggest finding an appropriate location, as you want it to be fairly flat with as little traffic as possible. There are indoor places you can do this too – however as its summer it would be great to get outside.
4. Old school games, stuck in the mud, tag etc.
These games are classics and you can never get too old for them. They are still fun whether you are 'it' or you are being chased down. Great for fitness and dynamic movements, which keep you on your toes.
5. Bootcamp/Obstacle courses
If there isn't one of these in your local area for you can enjoy, you can make your own! You won't need a lot and it will be part of the fun (and exercise) to put it together! Old tyres, logs, things to climb, and running between objects will give you plenty to be getting on with! I'd suggest Aldenham Country Park play area for anyone local.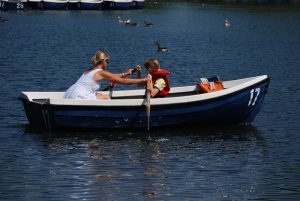 This might be something to do with your older children or if your kids are strong swimmers. A very strenuous and exhilarating sport to try. This is something that will require planning and will cost more than a bike ride or playing in the garden. This could be more for a special day out to enjoy as family to mark the day.
There are lots of water sports available at Rickmansworth Aquadrome, or head to Hyde Park and get to work on a row boat or pedalo!
This is a great way to have fun and do something good. Entering a fun run together means you have a reason to train and a date to aim for. You can raise money for charity and get fit at the same time – win win!
And Park Run at Cassiobury Park is every Saturday, so you can get in some practise together too!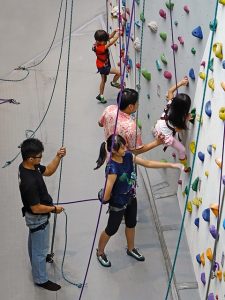 If you head outdoors for this then it's probably another special day out to have as a family, which is quite vigorous. This would be for older kids as it can be quite dangerous and you would need to have some lessons or at least have some guidance before going out alone as a family.
However The XC in Hemel Hempstead is amazing, and do groups from ages 3 up. I'm about to get trained to become rope competent so I can take my eldest and we can climb together!
Rounders, tennis, badminton and cricket are all traditional games you can enjoy as a family. Ideal for BBQ events to get everyone involved in too. Great for coordination and fitness, lots of fun as well as team building.
Something that can be done without getting out of breath. Don't let that fool you into thinking it's easy! Crouching down planting flowers or digging up weeds is hard work and you will definitely feel in the next day. The best thing about gardening is you can see what your hard work has achieved! Children can be given their own area to grow food, which will also help with healthy eating!
Whatever you do try to make it part of the family routine- a 2013 study in the Journal of Physical Activity & Health showed that children were physically fit when they perceived at least one of their parents to be physically active. So walk instead of using car, and make visiting the park or going for a bike ride the norm in your household.
There are plenty of suggestions here to choose from and I would love to see pictures of you and your family getting active this summer.
Are there any other activities you think would be great?
Is getting active as a family important to you?
Comment below with your thoughts, as we would love to hear them.
https://vanessabarker.com/wp-content/uploads/2016/07/bike-775799_640.jpg
426
640
Vanessa
https://vanessabarker.com/wp-content/uploads/2015/11/logo.00.jpg
Vanessa
2016-07-11 11:22:23
2018-04-24 16:18:14
Family Fitness- 10 Ways To Exercise With Your Kids This Summer