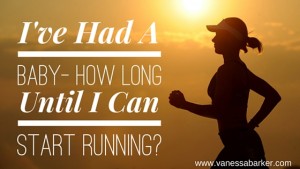 I get asked this question a lot, so I think it deserves a blog!
Unfortunately there is no simple answer, because EVERYBODY'S DIFFERENT! So you need to start listening to those motivational memes on Facebook telling you not to compare yourself to others- it doesn't matter that your friend was back running 3 months after giving birth. Someone who was fit before and during her pregnancy, and had a quick labour with no tearing will recover a lot faster than someone who isn't a regular exerciser and/or had a difficult labour. This is about what's right for you.
It Takes Longer to Heal Than We Realise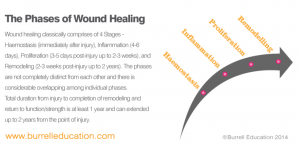 I have seen it advised that it takes at least a year for the pelvic floor to return to full strength , and if you look at the graphic above, you can see why that is! Connective tissues, such as tendons and ligaments, have a slower healing rate than muscle, and there's a lot of this within the pelvic basin.
This doesn't necessarily mean you can't run for a year though!
Here are some guidelines to help you decide whether to start running yet, and signs that you need to slow down.
We'll start with a hormone called relaxin which is released into your system in the early stages of your pregnancy. Its job is to relax your ligaments to help prepare your pelvis for childbirth, but relaxin doesn't just affect your pelvis, it affects every joint in your body. And it stays in your system for up to 6 months after birth, or until you stop breastfeeding.
As a result your joints aren't as stable as they once were. When you run, your entire body weight lands on 1 leg with a G-force of 2-3. So there's a lot of impact going through those unstable joints. Plus, for those of you who no longer have relaxin circulating: I've assessed a lot of clients over the years, and most people have poor alignment in a 1 leg stance. If you wobble when standing on 1 leg, how well will you cope with impact?
Next up is your pelvic floor.
If hasn't recovered yet, chances are, you'll wee yourself the first time you go out for a run, and could do yourself some everlasting damage. Even if you don't suffer any incontinence, if you feel a heaviness down there: stop.
Unfortunately incontinence is accepted as normal by many women. Common, yes, but not normal, even if you just leak a "little bit" when you sneeze or jump. In the majority of cases it can be resolved, so if you have any doubts about your pelvic floor see a Women's Health Physio and follow an appropriate exercise routine. And no running! If you place pressure on a dysfunctional pelvic floor it's never going to heal.
Your abdominal wall forms a sort of pressure system with your pelvic floor, low back muscles and diaphragm. And if you have diastasis, there is a weakness in that system, which means your back is going to be less supported while you run, and potentially there's going to be more pressure on your pelvic floor too. So focus on restorative core exercises before starting anything high impact.
I know the idea of no running can be hard.
For many it's not just the physical side (although it does feel good to go for a good run and feel like you've worked) but the mental side, as it relieves stress and gives you time to yourself. But remember: this is a phase of your life. It will pass, and it is so small compared to the bigger picture. At some point you will be able to run and jump again, just as long as you don't rush things now.
Jenny Burrell of Burrell Education explains this brilliantly: You brush your teeth every day, even though you could get dentures implants if all your teeth fell out, but there is no replacement for your pelvic floor!
So, you can start running again, if:
 Your pelvic floor is in check.
Your diastasis recti is healed.
 You've done a couple of months' worth of work on restorative core exercises, and some whole body strengthening.
You're at least 4, if not 6, months post partum. This is a minimum- some will need longer.
You've invested in a good sports bra (always a must with impact exercise, but especially when breastfeeding!)
What if you're not yet ready to run?
I have a few blogs to get you started- this one has training tips to get you fit to run, and this blog has my top 5 postnatal core exercises. You can also download my top 10 tips for getting in shape after having a baby here.
https://vanessabarker.com/wp-content/uploads/2016/02/running.jpg
315
560
Vanessa
https://vanessabarker.com/wp-content/uploads/2015/11/logo.00.jpg
Vanessa
2016-02-19 21:30:57
2017-09-14 19:53:22
Running Postpartum - How Long Should You Wait?