This is old news. I did a post about it on Facebook a while ago after I saw this photo on Instagram: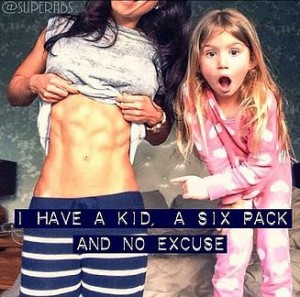 But despite the fact that a lot of fitness professionals spoke out against it, I still see it happening.
I'm talking about #noexcuses.
I've just seen this picture being used to promote a local gym to mums: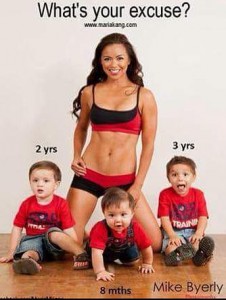 And that's why I'm writing this blog.
In all honesty I think (hope) they were just using it because of their creche, to say 'that's one barrier to your gym attendance that we've removed.' But that's not what the picture says. The picture takes her body, and says 'what's your excuse?' Are we seriously going to pretend none of us has a valid 'excuse' for not looking like that?
Well here are what I think are 6 perfectly good reasons for not having visible abs.
1. Not wanting visible abs.
This may come as a shock to some, but not everyone wants a six pack.
Having goals is great. But having abs is HER goal, and there's no need to judge others because they don't live up to it. They're not the be all and end all. They will not bring you happiness. They are not necessary in order to look attractive.
2. Not being a fitness model.
These women get paid to look like this. Well done to them for all the hard work, but for the rest of us, who don't get paid, and may even have other jobs that take up our time, it's not such a priority.
Also, the fact that they were fit before they had children makes things a lot easier. Are we really going to turn around to the mum who hasn't done a workout in years and say, 'hey, this mum who has 10 years training experience got her figure back in 6 months, what's your excuse?'
3. Having a life.
Yes, I could exercise more and eat less, but having body fat low enough to show your abs has trade offs. Those trade offs for me include less time with my children and feeling more stressed when I am with them as I struggle to squeeze in a workout around running a house and a business.
This doesn't mean I don't exercise. I train, I stay fit, but my goals at the moment are health related, I'd rather not waste time and energy worrying about a few pounds or inches here and there.
4. Not having obsessive/ disordered eating habits.
Otherwise known as having a healthy relationship with food.
This means when you have to consume food outside your own home it comes on a plate in a restaurant/ cafe, not in a Tupperware box filled with chicken and broccoli from the steaming marathon you had on Sunday evening.
And you don't feel guilty afterwards.
See here and here for a couple of examples of the damage competitive fitness can do to your relationship with food.
5. Genetics.
People come in different shapes and sizes. Some people are naturally slim and can quite easily get visible abs. For others it just isn't going to happen. So let's stop this message that certain physical attributes or body types are better than others. Let's stop comparing ourselves to others.
6. You don't need a fucking excuse.
You're an adult. Not a child turning up late for class. You do not answer to the gym police about your appearance.
Are you healthy? Happy? Then good for you.
Stop worrying about the rest.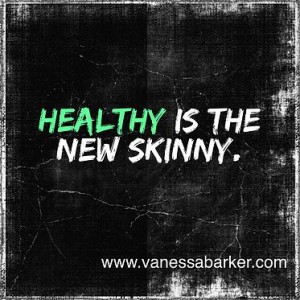 As a trainer, I feel it would be irresponsible of me to post these 'no excuses' pictures. I don't want to tell women they should look a certain way and I don't want to play on their insecurities to get clients. I want them to learn to be happy with their bodies and to stop comparing themselves to others. To train to feel good physically and mentally, because a happy mum means a happy family!
I started writing this blog because I felt annoyed about the message the fitness industry send out sometimes. Hopefully I'm finishing it on a more positive note.
But even when I'm being body positive, I still feel a bit sad. Because it's still about bodies.
How we look.
And we're more than that. If you really want to feel better about yourself, step away from the scales/ mirror. Learn a new skill. Laugh with friends. Develop yourself inside as well as out.
Because your children don't love you for your dress size or well applied mascara. They love you for the comfort in your hugs and words, the fun you have playing games, the safety of knowing you're there when they need you, putting them first.
Because you're a mum. And you don't need an excuse.
https://vanessabarker.com/wp-content/uploads/2015/11/e56a76_9566c3186c1d489d84322aae3bfc7950.jpg
324
327
Vanessa
https://vanessabarker.com/wp-content/uploads/2015/11/logo.00.jpg
Vanessa
2015-04-26 14:10:21
2016-09-02 19:31:26
I have #noexcuse. Because I don't fucking need one.