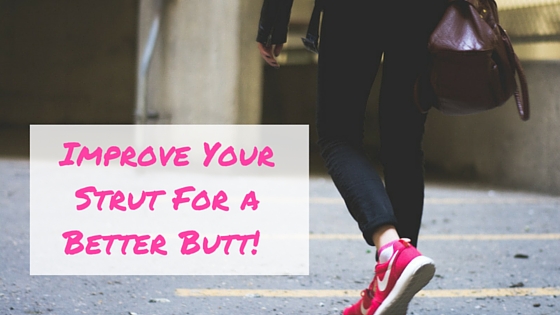 I'll cut to the chase: most of us suck at walking.
In her book Move Your DNA Katy Bowman describes walking as "controlled falling", in that most of us simply fall from one foot to the next, rather than focusing on using our butt muscles to drive us forwards.
I've written about the benefits of walking, and more importantly how much we should be aiming to do, but now it's time to make sure you get maximum 'bang for your buck' from your walks.
Here are some simple stretches, exercises and changes you can make to your walking technique to ensure you're actually using your glutes when you're out and about!
Too much time sitting means tight hips. When we sit our legs are lifted in front of us, and these muscles at the front of the hips can get tight. This means when we walk and we want our legs pushing off behind us, the tightness at the front can restrict that.
Here's a simple test to see if you have enough mobility for your bum to effectively pull your leg back.
Lie face down on the floor. When your pelvis is neutral (which is where it should be) then your pubic bone and the two most prominent, forward boney points on the side of each pelvis should all be level. So when you lie down you should feel an equal pressure on all 3 points.
Keep your head down, and lift one leg off the floor, using your glute muscles. How high can you lift your leg? Does the pressure on these 3 boney points remain the same or does your pubic bone lift up? Do you have to work your stomach muscles to keep it down?
Ideally you want to be able to lift your leg behind your body without having to work to keep your pelvis level. If you do, then when you walk you're likely to compensate for this tightness by arching the lower back instead.
Stretch your hip as in the video below. Make sure you keep a neutral pelvis- squeeze your glute to almost tuck your bum under, and make sure you stay upright, rather than leaning forward. Raising your arm to bend slightly takes the stretch a little deeper. Hold for 30 seconds, or until the stretch eases off.
Follow this with some exercises to strengthen your glutes. This blog includes some simple exercises to help build strength for running, and they are equally useful for walking.
Your choice of footwear has a huge impact on how you walk. As this picture shows even a small heel can alter your whole body's alignment. This means joints getting more wear and tear and muscles not working at their best.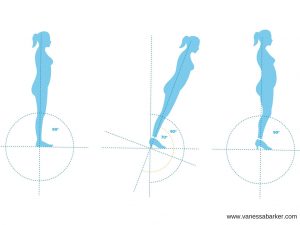 So a flat shoe is advisable, with a flexible sole because reduced foot movement will also affect how your muscles are loaded. However if you're used to wearing more supportive shoes please transition slowly, to give your muscles time to adapt; the book Whole Body Barefoot is all about transitioning to minimalist footwear. And if you wear orthotics or have any joint problems please consult your physio/ osteopath/ chiropractor for advice.
So much of our walking is on flat artificial surfaces. Including a variety of gradients in your walk challenges your muscles in different ways. For example walking uphill requires more flexibility in your calf muscles, and works your glutes more, and the variety means less repetitive strain on your body.
Uneven terrain is good too, especially if you're in minimal shoes. Walking over lumps and bumps is good for the feet and more challenging to the body than a flat surface, meaning a better workout!
When you're on a treadmill the belt carries your foot back for you, reducing the work for your butt muscles and increasing the work for the muscles at the front of your hip, which have to pull your leg forwards. This is the opposite of what we want, especially if you've spent too much time sitting at a desk or in a car!
If you do have to use a treadmill, make sure it is on an incline of at least 1%, to force you to push off a little and challenge the glutes.
And regardless of where you are, try to walk through the whole foot with a smooth rolling movement. Keep your head over your shoulders, rather than projecting it forwards (or looking down at a phone), and your arms should have a smooth swing, pushing back more than forwards.
For more specific exercises to help improve your flexibility, strength and posture, find out more about personal training.
https://vanessabarker.com/wp-content/uploads/2016/04/walking-blog.jpg
315
560
Vanessa
https://vanessabarker.com/wp-content/uploads/2015/11/logo.00.jpg
Vanessa
2016-04-28 22:10:52
2019-06-11 08:48:09
Improve Your Strut For A Better Butt!