I've called this chicken stock, but that's purely because that's how I tend to use it. But broth, soup, stock; it's all the same really.
I've written about the benefits to healing diastasis recti here, but this stuff really is packed with of all kinds of goodness. It's full of gelatin, which is a digestive aid, and the collagen in it is the building block of tendons, ligaments, and cartilage, and it promotes healthy skin and hair. Although be aware- some of the benefits of collagen are a bit over-sold: you can't absorb it whole, but the protein from the amino acids it breaks down into is crucial for any form of healing.
They don't call it Jewish penicillin for nothing! Chinese Medicine practitioners use it to treat illness, the Victorians' drank 'beef tea', and don't forget Russian borscht! And it's not just tradition: this study by Dr Stephen Rennard at the Pulmonary and Critical Care Medicine Section of the Nebraska Medical Center in Omaha, Nebraska, found it has anti-inflammatory properties which help to ease symptoms of upper respitory tract infections and colds.
I've been making my own chicken stock for a while though, purely as a way to use leftover bones after having a roast chicken, and because it's an easy way to make stock for other recipes, instead of using store-bought stock cubes.
Here's how I make it.
I put the leftover chicken bones in the slow cooker (you can use a saucepan if it's easier. I just like the slow cooker and often cook my whole chicken in there anyway.)
I add a selection of veg. Usually a celery stalk or 2, a few onions, carrots, garlic, make leek, then salt, and I quite like thyme.
Cover with water.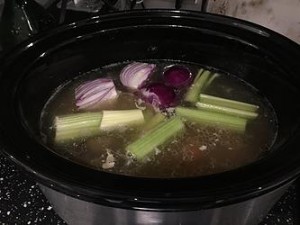 Put the slow cooker on low overnight, so it looks like this: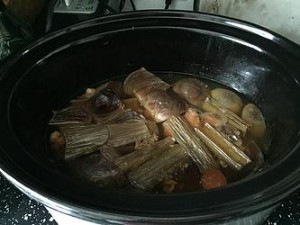 In the morning strain the liquid. The longer the better when it comes to cooking time, as it gives the bone more time to break down.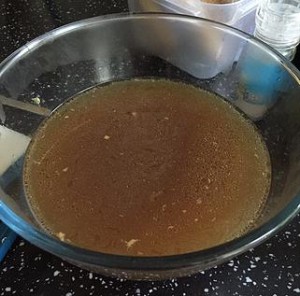 When it has chilled I scrape the fat off the top, then store in the fridge for 3 days, or in the freezer for a month or 2. I usually have 1-1.5 litres worth which I divide in to containers.
I have also shared a recipe for beef broth here.
https://vanessabarker.com/wp-content/uploads/2015/11/e56a76_9799334cfa14409f851b43b0dcb121cb.jpg
250
333
Vanessa
https://vanessabarker.com/wp-content/uploads/2015/11/logo.00.jpg
Vanessa
2015-04-01 12:05:18
2015-12-27 19:55:51
Recipe: Chicken Stock